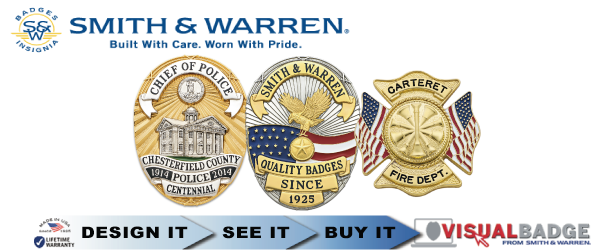 Custom police badges From Smith & Warren. Choose from over 1,000 badge models and see the badge being built with their revolutionary Visual Badge Program.
​​Smith & Warren and EPoliceSupply can help you design a completely custom badge that your agency or department can wear with Pride.
Stock badges & leather with your choice of panels and 100 center seals. Have a custom badge made in 1-2 business days.
Full line of commendation bars from Blackinton & Smith Warren. 1000's of models available. Holders available.

Can't wait 30 days? Blackinton has name bars with limited options available to ship in 5-10 business days.
Custom acrylic badge preservations from Smith & Warren. Build yours with their revolutionary Visual Badge Program
EPoliceSupply partners with two Leather Manufacturers, Perfect Fit Shield Wallets and Strong Leather, to provide our customers with a wide selection of Badge Wallets, ID Cases, Belts, Belt Clip Holders, Neck Chain Holders and Holsters. Over 4000 badge cutout shapes are available.