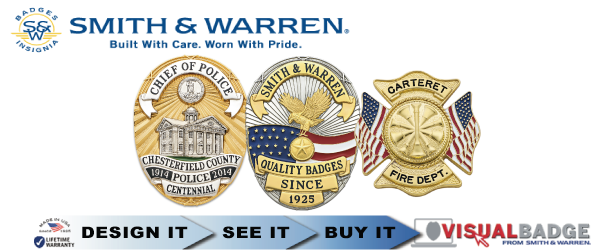 Custom police badges From Smith & Warren. Choose from almost 1,000 badge models and watch the badge being built with their revolutionary Visual Badge Program.
​​Smith & Warren and EPoliceSupply can help you design a completely custom badge for a one-of-a-kind badge that your agency or department can wear with Pride.
​​​Custom Keychains from EPoliceSupply. Design a completely custom keychain that your agency or department can use with pride.
Stock badges & leather with your choice of panels and 100 center seals. Have a custom badge made in 1-2 business days.
Full line of commendation bars from Blackinton & Smith Warren. 1000's of models available. Holders available.

Can't wait 30 days? Blackinton has name bars with limited options available to ship in 5-10 business days.
Our new vibrant kelly green badge finish from BLACKINTON is a great way for Emerald Societies, pipe and drum, or any police or fire department to show pride in their Irish heritage. To order your green badge in time for St. Patrick's Day the order must be received by 3PM, (EST), February 14th. Call 800-789-0000 to place your order.