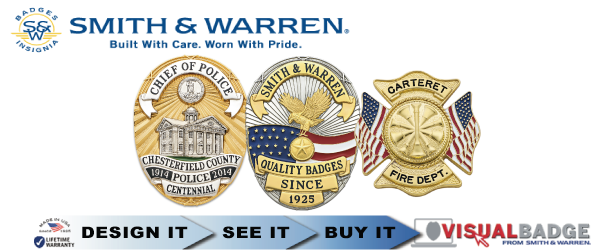 Custom police badges From Smith & Warren. Choose from over 1,000 badge models and see the badge being built with their revolutionary Visual Badge Program.
​​Smith & Warren and EPoliceSupply can help you design a completely custom badge that your agency or department can wear with Pride.
Stock badges & leather with your choice of panels and 100 center seals. Have a custom badge made in 1-2 business days.
Full line of commendation bars from Blackinton & Smith Warren. 1000's of models available. Holders available.

Can't wait 30 days? Blackinton has name bars with limited options available to ship in 5-10 business days.
Custom acrylic badge preservations from Smith & Warren. Build yours with their revolutionary Visual Badge Program
Since the year 2000, EPoliceSupply.Com has offered the largest selection of police badges, uniform insignia, commendation bars, award metals, name plates, collar brass, and leather accessories. EPoliceSupply is an E-Commerce dealer, shipping to all areas in the United States as well as Internationally.