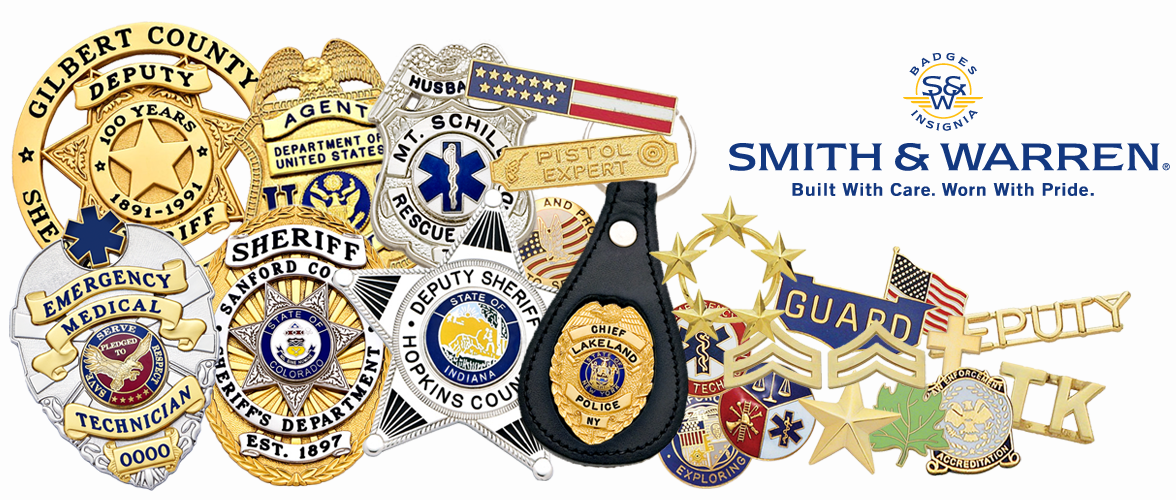 EPoliceSupply SINCE 2000!
EPoliceSupply is your premier source for Custom Badges, Commendation Bars, Bar Holders, Insignia, Name Plates and Leather since 2000.
We are a top supplier of Blackinton and Smith & Warren custom made badges for Police and Law Enforcement Officers, Firefighters, EMS/EMT, Military, Security and more. Our extensive line of Commendation Bars numbers well over 600 products.
High quality leather badge wallets, badge ID cases, badge neck chain holders, and badge belt clip holders are manufactured by both Perfect Fit and Strong Leather.
Design your own custom badge on-line with Visual Badge from Smith & Warren or Design-A-Badge from Blackinton.
IN STOCK PRODUCTS
Need a badge in a hurry? Can't wait for a custom item? Check out our In-Stock line of products. EPoliceSupply can ship Bail and Bounty Badges, Concealed Carry Badges, Reposession Badges, Building Inspector Badges, Notary Public Badges and Family Badges in 1 to 2 days.
Flag Patches, Thin Blue Line/Thin Red Line Products, Challenge Coins, Collector Coins and Key Chains are also available for immediate shipping.